Dance Class Descriptions
---
Twinkle Stars (ages 18 months through 5 years)
Princesses & Pirates
(24 months by 9/1 of 2020)
This is a high-energy class comprised of fun music, dance steps, action songs and beginning tumbling.  For the child who is apprehensive about participating, we encourage a parent to participate in class with them while they become more comfortable.  All children develop differently, but *most* of our students in this class are ready to participate independently after the first 4-6 weeks of class. We respect the readiness of the child, however, and do not force independence in class before the child is truly ready.  "Princesses & Pirates" classes perform a fun dance in our recital.
Tutus & Bowties
(3 years by 9/1 of 2020)
Children will learn foundational dance steps in ballet, jazz, hip hop and tumbling;  as well as  counting music, understanding dance terms and participating in directed classroom activities.  This exciting combo class is for children who are ready to learn without parents in class. With an energetic mix of skills, games and stories, your child's confidence will grow by leaps and bounds. Students will perform a dance in our recital that combines their ballet skills and jazzy hip hop stylings.
Beginning Tumbling & Tricks
(age 5+ by 9/1/20)
Young cheerleaders, gymnasts and dancers will  develop flexibility, strength, balance and coordination in this energetic class. With drills and combinations developed specifically for younger students, your child will learn tricks like cartwheels, bridges, handstands, limbers, leg holds, walkovers and more. We use the Acrobatic Arts© curriculum, and dancers' progress is measured and recorded as they progress through skill levels.
Ballet / Tap / Jazz Combo Classes
(For ages 4 & up)
Enjoy beginner combination classes that help young dancers learn correct technique right from the start. Preschool dancers will develop solid foundational steps along with the ballet vocabulary to go along with each new step. The fun doesn't stop there, as dancers begin to understand musicality and rhythm with beginning tap dance and/or jazz foundation skills like beginning turns and leaps.  Each class includes ballet fundamentals; with tap and/or jazz styles added as the year progresses. Each class session will include technique and fun combinations from two styles for added variety. Choreography for both styles will be taught in class; however, one style will be chosen by the teacher to be executed to stage-perfection for performance in the year-end recital.
Lil' Hoppers (ages 3-4)
Hip Hop / Tumbling (ages 4-6)
 If your little one just loves to move like the Fresh Beat Band or Shake it Up, this class is for them! Age-appropriate music and fun, athletic style dance steps will be taught during this class.  Beginning tumbling skills like rolls, kicks and bridge-ups will also be introduced. Watch your child develop strength and coordination, while improving large motor skills, rhythm and musicality–all while enjoying the songs and beats that high-energy kids love most.
KinderFunk
(For ages 5-6)
This fun combo class starts with foundational steps of ballet, but adds in the upbeat rhythm and grooves of hip hop, and/or tumbling skills including cartwheels, handstands, and backbends.  These classes keep the energy level high; while still establishing a strong foundation of dance fundamentals that carry students throughout their dance journey–for whatever style they choose to learn in the future.
---
Rising Stars (age 7 and up)
Ballet (age 7+)
Classical training for the developing dancer. Check schedule for current offerings and combo classes (i.e., ballet/tap; ballet/tap/jazz;  etc.)  Combo classes provide foundational ballet training while keeping the fun factor of an additional style. For older students (age 9 and up) graded ballet classes bring greater emphasis on improving technique and strength along with musicality. Students must be placed by the studio in any Intermediate or higher level ballet class.
Jazz  (ages 7+)
This energetic class combines foundations of jazz style dance with the fun of current pop music hits. This class is all about developing proper foundational technique for jazz, along with developing musicality and understanding high energy rhythms in music and movement. Students will be introduced to leaps, kicks and turns, while working to develop  flexibility, core strength, proper placement and alignment.
Acro Dance / Tumbling (age 7+)
Young dancers will develop flexibility and strength in this fun style that combines tumbling and dance. Acro is a unique style, combining tricks like cartwheels, bridges, handstands and walkovers with basic dance moves to create a fluid motion set to music.  Acro dancers learn drills to develop strength, balance, flexibility and coordination. We use the Acrobatic Arts© curriculum, and dancers' progress is measured and recorded as they progress through skill levels.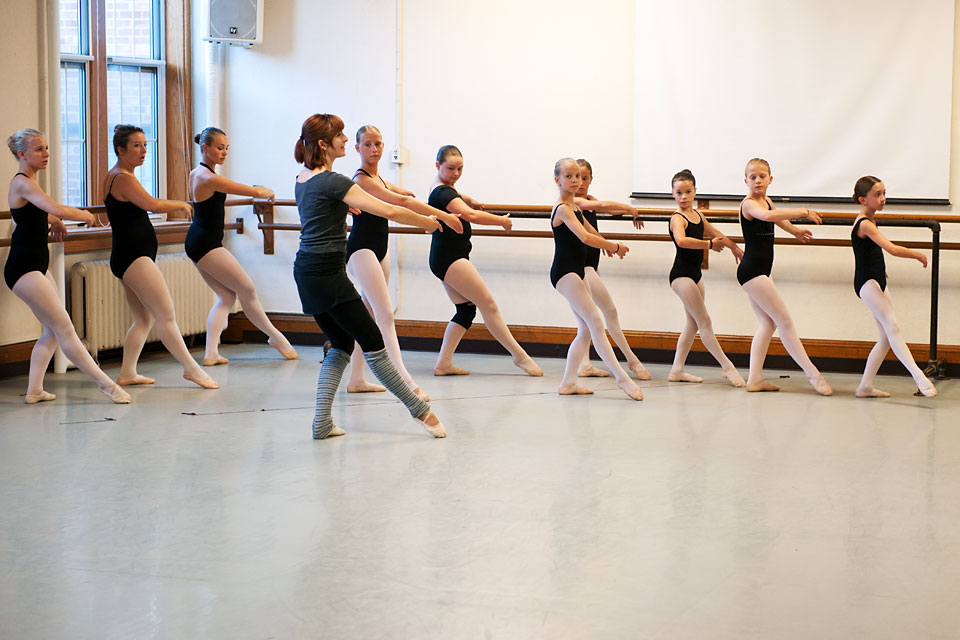 Hip Hop (ages 7 and up)
Pop and lock movement, isolations, breakdance tricks and tumbling are all part of this modern dance style. Students may also learn freestyle, footwork, house and other up-and-coming styles in this fresh and fun class. All choreography and moves used in our classes are  age-appropriate and family-friendly.
Lyrical and Contemporary (ages 10+)
Lyrical combines the technical elements of dance with deep personal feelings and emotions. It tells a story through fluid, smooth, and controlled movement.  Emphasis is placed on alignment, strength and posture, as well as performance skills and expression.  Contemporary involves elements of lyrical dance, but also fuses together other styles which may include jazz, hip hop, acro and modern.
Tech Classes — Choose Ballet, Jazz, Poms or Turns & Leaps (ages 10+)
Dancers will focus on building technical ability with conditioning and flexibility; from there, skills and drills for jumps, kicks, leaps and turns will help take each dancer to a new level. All dance styles will find benefit from technique development. Tech classes do not learn choreography for performance; rather, they concentrate on building better dancers who can handle any choreography in any performance situation.  Please note, some tech classes are reserved for enrollment by Allegro performance company–please inquire so we can recommend a tech class that will meet your dancer's specific needs.
---
Bright Stars! For Students who Love to Shine
Musical Theatre (K-10th grade)
Each semester, we produce a large stage musical–this fall, our shows is Frozen. ALL Allegro dancers are invited to join us onstage for dance ensemble pieces and all participation fees are included with your tuition.
Competition Teams
For students who want to take their dancing to the next level, we offer no-audition Competitive Teams for students as young as age 5 by January 2020. Co-requisite classes are required; inquire for more information.